Nav Varih Mubarak


Nav Varih Mubarak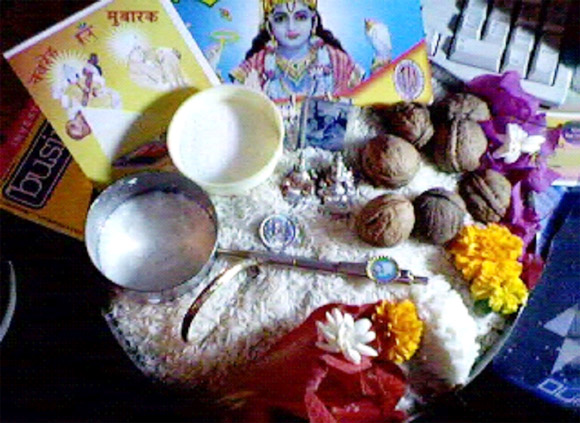 *Vinod Razdan


Navsamvatsara (Navreh)
This festival is celebrated on the first bright night of Chaitra. According to the lunar calendar, it is the first day of the New Year. It is also the first day of the creation of universe. Brahma, Vishnu and Shiva are worshipped on this day. It is also the beginning of Navratras. According to the custom, a plate (thali) is filled with rice. The following articles are also placed on the rice (i) milkpot (ii) flowers (iii) walnuts (iv) pen (v) inkpot (vi) coin or a currency note of any denomination (vii) Panchang of the new lunar calender year (viii) boiled rice (ix) Sugar or mishri (x) salt (xi) ghee (xii) baked rice flour bread (xiii) wuy a root of some kind of grass that grows in water and (xiv) picture of Vishnu or Shiva-Parvati. This plate is filled on the eve of Navreh (Navsamvatsara). Early in the morning of Navreh, the grandmother or elder lady or mother gets up and brings this thali for darshan by every member of the family. It is considered a good omen for the new year. Tahar of the rice is cooked and served after Pooja. Goddess Sharika is worshipped at Hariparbat. Flowers and Tahar are offered there. Navratras are celebrated with great devotion and faith. Goddess Mother is worshipped in homes and temples. Wye and kernels of walnuts are taken by every member of the family before taking any other thing in the morning.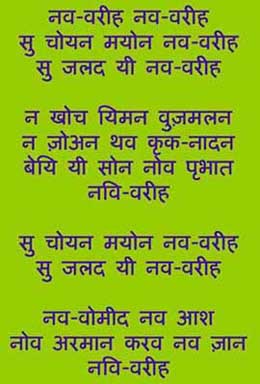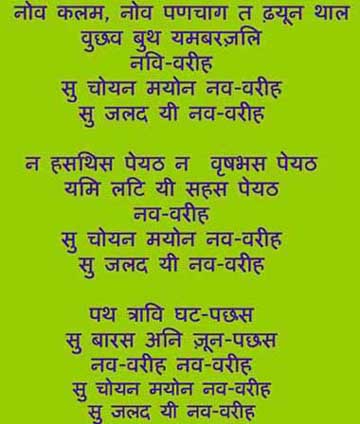 Copyrights © 2007 Shehjar online and KashmirGroup.com . Any content, including but not limited to text, software, music, sound, photographs, video, graphics or other material contained may not be modified, copied, reproduced, republished, uploaded, posted, or distributed in any form or context without written permission. Terms & Conditions.
The views expressed are solely the author's and not necessarily the views of Shehjar or its owners. Content and posts from such authors are provided "AS IS", with no warranties, and confer no rights. The material and information provided iare for general information only and should not, in any respect, be relied on as professional advice. Neither Shehjar.kashmirgroup.com nor kashmirgroup.com represent or endorse the accuracy or reliability of any advice, opinion, statement, or other information displayed, uploaded, or distributed through the Service by any user, information provider or any other person or entity. You acknowledge that any reliance upon any such opinion, advice, statement, memorandum, or information shall be at your sole risk.