Gopinath Raina in conversation with Arun Koul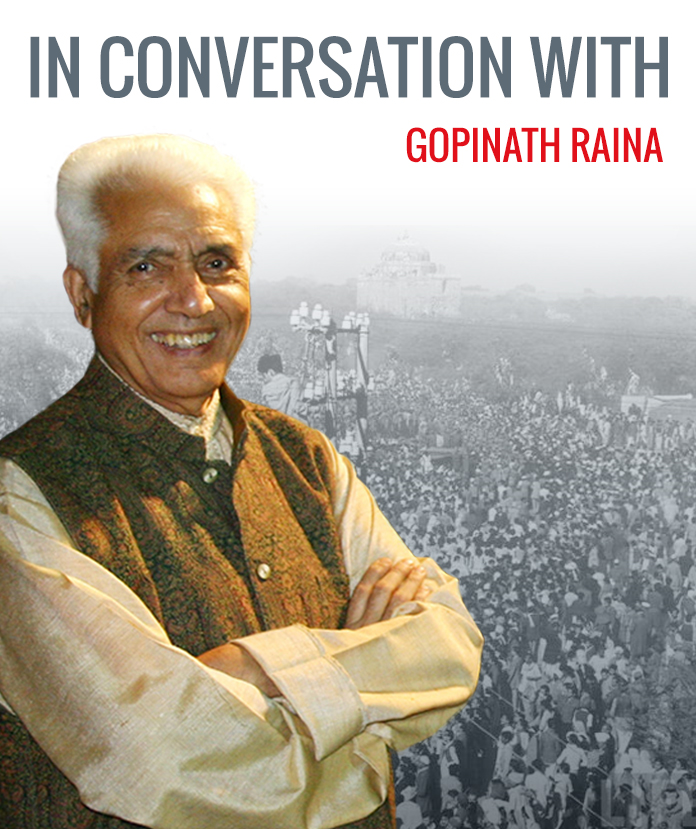 I have known Shri Gopinath Raina for a good number of years now, certainly from the beginning of this century. In meetings, he comes across as a tall, elegant man, with pleasing, handsome looks and gracious demeanor. Even in a room full of people, it is his image that first catches one's eye. He is an imposing personality, yet he seems very personable and approachable. Hence people of all ages get drawn into conversation with him. In familiarity, love and admiration many call him Papaji, which is what his children and close family members also call him.

Papaji had a long and glorious career in the Indian Information Services and also worked in media and journalism before and after that. He has contributed some of the most widely read content for magazines and journals including our Shehjar. Such has been his impact as a journalist and writer that I have been wanting to do a biographical interview with him. But then he looked and performed so much as a person still in his prime, both intellectually and physically! One would think that there is a lot of time remaining to do that. Papaji recently turned 93 but it would be impossible for any person not in the know to place him in that quadrant. He easily looked 25 years younger.

Very recently, during conversation with Deepak Ganju, Papaji's son, I came to know that Papaji now has Stage 4 colon cancer, which is also trying to overpower his lungs. This was shocking to say the least. There has been so much tragedy in the family lately that one felt like breaking down. Papaji's youngest son Akshay passed away from cancer at the age of 51 and his young granddaughter (Deepakji's daughter Neha) had passed away just 2 weeks before this tragedy. I asked Deepakji if we could approach Papaji for an interview because there could not be a way that the experiences and advice of such a Karam Yogi should remain undocumented. Deepakji agreed and so I sent Papaji a series of interview questions. Purportedly, the purpose was to find out how Papaji had managed to carry sharp intellect in a robust looking body even at his age. Also to seek answers about how to gracefully and ideally deal with all kinds of ups and downs in life. He wrote back to me soon. "Namaste, Bete. It is your innate goodness and hereditary acquired aptitude that makes you so humble."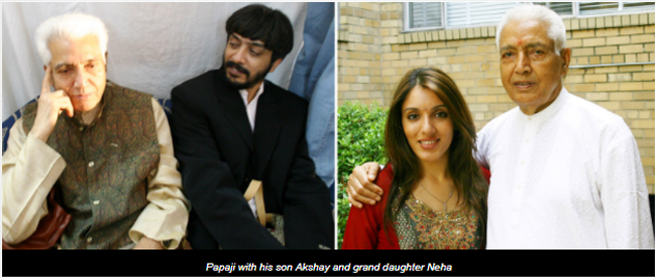 "Now, to your questions. You say that many years back, you were surprised to know that I was then in my 80s whereas you would not have thought even 60s. Well, many years ago, my life style and my physical being defied the age concept. By and large people would not place me beyond 65. The reasons seem easily identifiable."

"During my professional career spanning 35 years from March 15, 1948 to July 31, 1983, I could not follow a fixed life-style simply because the duty hours were not normal. It was not a fixed 7-hour daily schedule, from 10 am to 5 pm. It used to be either a 3pm to 10 pm schedule, or from 9 pm to 4 am or from 3 am to 10 am. Rarely would it be 10 am to 5pm."

"I had various assignments, like those of a Monitor, Sub-editor, Editor/cum/Correspondent, In-charge of AIR's prestigious daily Spotlight and weekly Current Affairs Programs. In these, not only media greats and editors of leading newspapers (like Girilal Jain, Inder Malhotra and Devdas Gandhi), but also most government Ministers and well-known analysts and defense experts would take part daily. This led to interaction with leading ideologues from whom I could learn the basics and patterns in various fields; cultural, social and economic."

"Once I retired at the age of 58 on July 31, 1983, I could adopt a regular lifestyle that included early rise from bed but not so early going to bed. Yet, I did ensure at least 6 to 7 hours of sleep. Early rise would give me time for regular morning walk of at least one hour if not more, in addition to time for meditation, followed by timely breakfast."

"At this point I would like to make one thing clear. I feel from your questions that you perhaps are not merely interested in knowing something more about my early life, education etc., but something a lot deeper. When I thought this, I felt that I should interest you in what I have already recorded about my life's journey in a sort of auto-biography. Since it is recorded in a time when memory served me right, you might find it more interesting, throwing light on various aspects of life and my development as a student of life as such. I would appreciate your time in going through details as it might satisfy you and your inquiries."

"I am replying to some of your harder questions later because these deal with the disease that has overtaken my lungs. As you know it is stage 4 Cancer that has travelled from my colon, where it was first found in August 2013. I have decided not to subject myself to any chemo treatment simply because I wish to pass on with the least suffering. More so, I am taking advantage of my astrological skills that I have developed for nearly 65 years. The year of my exit from this planet is surely by 2018."

"This personal affliction itself was compounded by a more serious tragedy in my family when one of my beloved, beautiful and vivacious granddaughter succumbed to a similar disease. Within 12 days, my youngest son was lost to blood cancer at the age of 51."

"Life is a paradox, live our part and depart. As I wrote in one of my articles on Death a few years ago in Shehjar magazine, Death is more certain than life itself."

With his reply, Papaji attached his autobiographical notes, which have never been shared before. As I read these notes, I became further captivated by Papaji's intellect, experiences and art of communicating a story. While reading the notes, visuals would magically float in front of my eyes, of what had transpired. It is tremendous responsibility to share these notes with you in an orderly manner and I hope to do so in the coming days and weeks. Breaking tradition, we will be updating this cover feature, "Shri Gopinath Raina – Papaji" several times during this month itself, in this very issue. Every update will append a new autobiographical note from Papaji. The first one, Note 1 - Hero Of My Dreams is linked below.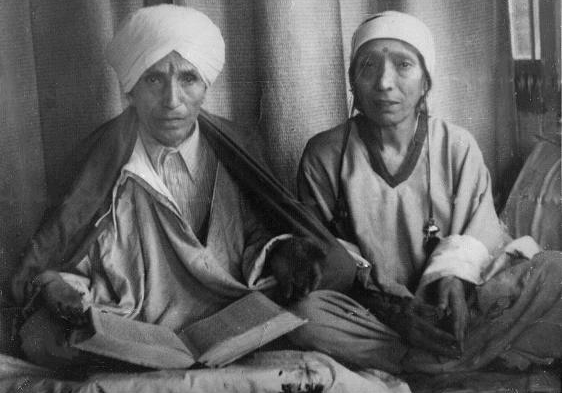 I had the great good fortune of having been born to parents who were highly cultured, noble and god-fearing. If I developed any interest in things spiritual from my very childhood, I can easily trace it to my blessed parents, the saintly mother 'Ded' and the scholarly father I called 'Bub'. Both of them were deeply religious. My revered mother would regularly visit Hari Parbat early morning for 'darshan' of goddess Sharika and my dad would spend nearly two hours in worship in a separate room reserved in the house for gods, called 'Thokur Kuth' in our language.

Even though I was posted far from my hometown, I had the great good fortune of serving my blessed parents in Shimla in two spells covering a period of about six years. After the death of my respected mom in 1959, my father spent the last three and a half years of his earthly sojourn with me in Shimla, giving me the rare privilege of serving him during the last phase of his life.
1.The Saintly Mother

I have had the great good fortune of having been born to parents who were highly cultured, noble and god-fearing. If I developed any interest in things spiritual from my very childhood, I can easily trace it to my blessed parents, the saintly mother 'Ded' and the scholarly father I called 'Bub'. Both of them were deeply religious.

Even though I was posted far from my hometown, God provided me the opportunity to serve my blessed parents in Shimla in two spells covering a period of about six years.
Early Years

My revered mom was born on 31st of March in 1887 to highly respected Brahmin family of Srinagar, She was the eldest child of her parents, Babakak and Yembarzal Ded,. She was hardly five when she lost her mother. Her father remarried soon after. My mom had at least seven step sisters and one step-brother.

However, in accordance with the custom those days to marry girls well before they attained the age of 10, my mom, Ranimi was her maiden name, got married when she was just 7. Often she recalled the childish quarrels she used to have with her husband over homemade toys etc. After marriage, my grandfather, Pandit Kawal Kak, gave her another name, Vishamali. Thereafter she was known as both Vishamal Ded and Ranim Ded.

Beginning her marital life at 13, my mom, I was told by her, gave birth to 17 children out of which only five survived, thanks to the scourge of the times-infant mortality. Her first surviving child was a daughter, Sati, born in 1906 when she was 18. She had her second surviving child, a son, Badri Nath, in 1914, followed by another surviving daughter, Durga, in 1916. In 1919, she was blessed with second son, Janki Nath.
"Almond Prasad"

Four years later, a close cousin of my mom, Gopal Nath, a famous Tantrik Yogi of his times, asked her to give her 4-year-old Janki Nath in adoption to his only son and the only child, Niranjan Nath, so as to perpetuate their family lineage. Niranjan Nath, also a Tantrik by profession, had vowed not to marry. My mother was naturally reluctant to part with her second male child. Gopal Nath, as my mother later told me, persisted with his request and used his spiritual power to influence her decision.

One day while in Puja, the Tantrik mystic picked up an almond from the Prasad he had offered to God and told my mom: "Here, take this almond and by God's grace you will have a son in just 12 months from now." Prasad was accepted and Janki Nath was given over in adoption. About 13 months later, my mother gave birth to me, the last surviving child. She would often refer to me as "Gopal Nath's Almond Prasad".

I have no idea whether this story had anything to do with naming me Gopi Nath.
Reminiscences

I have faint recollections of childhood days when my mother would spend late nights nursing the sickly child in me. In fact, I am told that I had been the cause of suffering to her at the time of my arrival in this world. I did not emerge from my mother's womb in the normal way. It was quite the opposite, legs first and then the head, causing her great pain and agony. For nearly two to three hours she was said to have struggled between life and death.

Being the youngest, revered mother paid greater attention to me. Despite her pronounced affection and weakness for me, I was more drawn to my father. And when at the age of four I fell seriously ill and did not respond very favorably to medical treatment, my father was called from the place of his posting. Within days of his arrival, I recovered. Based on this incident, a decision was taken that I should accompany my father.

It was a difficult moment for my mother to bear separation of the one she was so fond of. But she made the supreme sacrifice of her love for she knew that I would be happier with my dad. Only she could do it, equipped as she was with stoic approach to life as such.

I remember once after I returned from college, she gave me some snacks to eat and while I was munching the famous Kashmiri 'kulcha', she called me to the window overlooking the bedroom of a close neighbor. There the recently married couple were having evening tea in a jolly mood, laughing and coaxing each other. She told me that she wanted to see me and my wife in a similar happy playful mood one day.

And her day came. I was married in the fall of 1947 and on the third day after the wedding she told me to lift my wife from my bedroom on the second floor and bring her before her and my dad who were sitting in the third floor of the house. She also promised me a reward of one hundred rupees, a good sum at that time. Initially I hesitated because my wife was weightier than me and I knew I would not be able to lift her up. But I did not want to disappoint my mother. I took my wife in confidence and persuaded her to walk up to the last staircase where I lifted her for a few seconds and brought her in presence of my dear parents. My mother's joy knew no bounds.
Her Passing Away

Happily married, she lived on this planet for 72 years before she passed into eternity in the early hours of the most auspicious day of Baisakhi on April 13, l959. . A great Yogini that she was, her end came so peacefully within an hour of returning from her usual visit to Hari Parbhat, the abode of goddess Sharika. In that one hour before she left for her heavenly abode, she laid puja samagri for her husband's morning worship, visited the neighbors as part of her daily routine to inquire about their welfare and then did her kitchen chores to prepare tea for breakfast and food for the lunch.

As soon as she finished her morning tea, she left her mortal coil in a sitting posture in presence of my father, my brother and his family. Shocked beyond words at the sudden and unexpected turn of events, they simply marveled the way my dear mom literally walked into death in a completely relaxed manner. The neighbors, who had talked and chatted with her, only a few minutes earlier, refused to believe that she was no more.
Telepathic Phenomenon

I was away in Shimla with my family when my respected mother passed away in Srinagar. A telegram conveying the sad news reached me at about 11:00 A.M., two and a half hours after she had breathed her last. But what happened at our end that morning is a vivid demonstration of what in occult science is known as the phenomenon of telepathy.

Baishakhi, a popular Hindu festival, marks the arrival of spring and is usually a day of fun and frolic for both young and old. We had, therefore, planned to go on a picnic on this day to one of the scenic spots around Shimla. The only hurdle to surmount was to avoid a pre-arranged meeting with a friend on that day in my house. I picked up the phone at 9 O'clock in the morning to request my friend, a Sardarji, for postponement of the proposed meeting. As he was not home, I left a message with his wife for the postponement of the meeting that day. Instead of simply telling her the real cause behind putting off the meeting with her husband, what slipped from my tongue, inadvertently though, was that there will not be any meeting in view of the death of a relative in Srinagar. No sooner did I put the phone down than did I realize that I had spoken an obvious lie. How and why such a thought should have come to my mind at all, I have not been able to fathom to this day.

The phenomenon of telepathy, it is clear, had worked and whispered, as it were, into my ears that something terrible had taken place hundreds of miles away. And the inevitable had occurred. My saintly, soft-spoken mother had actually passed away in my hometown, Srinagar, exactly half an hour before I blurted out the apparently false excuse to wriggle out of the proposed meeting.

And by the time we were almost ready to leave for the picnic, we got the wired message. The idea of going on a picnic disappeared in thin air. We hurriedly packed our clothes and children's books for a longer vacation. The food readied for picnic was used during the 3-day journey to our hometown.

As we were leaving the Shimla house for the railway station, Sardarji appeared to express his condolences. On learning that I had lost my dear mother, he asked me why did I not tell his wife about my mom's passing away. He was taken off his feet when I told him frankly that the excuse of a relative's death was just the slip of tongue and that I did not have any knowledge, whatsoever, of any such happening at the time of talking to his wife in the morning.

We reached Srinagar on the third day of my revered mother's death.
Pious and Kind

"She was a great and a pious soul" was the refrain of all those who came to our house to express their condolences. Undoubtedly she was a kind, benevolent, pious and truthful person.

Generous to the core, my mother helped all those who sought it and would never turn away anyone, even a beggar, empty-handed. Unlettered though, all our relations, neighbors and friends would invariably seek her advice and guidance for their day-to-day problems.
Her Philosophy of Life

An epitome of forbearance, she would always say that one should have the patience and

the broadmindedness of a river like VITASTA which flowed through Srinagar city, quietly absorbing all the muck that was thrown in it. Extolling the virtue of patience, she would, more often than not, refer to the following couplet of the famous saint-poetess of Kashmir, Lal Ded:

"Sabur chuy zyur, march ta nunay
Khyana chuy tyuth ta khiyas kus
Sabur chuy suna sund tooray
Mul chuy thud ta hiyas kus."

"Who will eat (practice) patience which is pungent, acrid and bitter like cumin seed, black pepper and salt; who will buy (cultivate) patience which is costly like the broad bowl platter of gold?

Doubtless, one has to endure and exert one's strength of mind to cultivate patience and forbearance, rare virtues found in humans, particularly in this dark age.

In fact, it was my mom who first introduced me to Lalleshwari's vakhs. I remember her muttering, not loudly though, Lalla Vakyas every now and then. I can recall just two more of Lal Ded's couplets my mother was fond of reciting. The one speaks of moderation:

"Khena khena malyo kun no watak
Na khena ha ghachak ahankari
Sumuy khe mali sumuy rozakh
Sami khena muchranay barnen tari"

"Eating too much will lead you nowhere; not eating will make you conceited. Moderation in eating and in all that you do will make you even-minded and unbolt the gates (of happiness)."

In the other couplet, Lalla teaches us to treat pain and pleasure alike:

"Par ta pan yem somui monui
Yem hyuvui monui den kyoh raat
Yemis aduy man sapanui
Tami dhyuthui sur gurunath"
"He who deems others as his own self; He who deems the day (of joy) and the night (of sorrow) alike; He whose mind is free from duality; He and he alone has found the highest truth."
2.Scholarly Father

My revered father was a great Sanskrit scholar who had mastered most of the sacred scriptures, the Vedas, the Upanishads, Bhagwad Gita, the Ramayana, Mahabharat, and the Puranas, Vishnu Puran and Bhagvatam, in particular. An oriental teacher by profession, he used to hold Ramayana classes at home in the evenings after returning from his teaching job.

Before retiring to bed, he would, often, narrate me stories from the scriptures, which was primarily responsible for my religious enthusiasm to the extent that I started wearing a rosary, normally used to do Japa (repetition of God's name), at an early age. I would also accompany my mom to Hari Parbat and spend an hour in daily prayers at home.
"Hola Mund"

As a child, I was drawn more to my father than to my mother. I very well remember how when I was hardly four, I was struck with fever which did not subside for nearly two months. The elders had a name for such a phenomenon. In native language they called it "hola mund" which means 'to be struck with the fever of intense love and longing'. Since my condition did not show any appreciable improvement after proper medical attention, urgent summons to come home went out to my dad, a government teacher posted at that time in a school in Kulgam, a village about 65 miles from my hometown. My father, equally fond of me, responded promptly. As soon as I saw him and sat in his lap, the fever that had afflicted me for so long took to heels. A miraculous recovery!
Father's Nirvana

November 30, 1962, Friday; it was 9:00 a.m. Deepak was down with fever. While father was doing Puja, I was preparing to leave for office. All of a sudden, a thought crossed my mind that I should not go to office. There was absolutely no reason for such an idea. Just for the heck of it, I thought of taking an off. But my father persuaded me to go, for he knew that it was the day when Chinese troops were to begin voluntary withdrawal from the Indian soil. I had never disobeyed my father. So I left for office, unwillingly though. And before I had even opened the drawer of my table in the office, a phone call was received. Deepak was on the line. In quivering tone, he informed me of father's illness. He did not tell me that my dad was no more. I rushed back but it was too late for me to see him alive. He had, in fact, passed into beyond immediately after I had left for office.
His Prophetic Words

The prophetic words he had uttered that very morning still ring in my ears. He told me: "I know you have been studying astrology quite seriously. You are keeping yourself updated by subscribing to magazines on the subject, particularly B.V.Raman's Astrological Magazine. Let me add to your knowledge a leaf from my personal experience. Anyone having Saturn in 5th house, and that, too, in a debilitation sign, would not have any of his children by his bedside at the time of death. And you know that I have debilitated Saturn in my 5th house. If and when I leave this world, you will not be by my bedside. In fact no child of mine would be there."

I took his words lightheartedly. My false pride would not let me believe him, for I thought too much of my knowledge of astrology, with the help of which I had already figured out astrologically on the basis of his Annual Chart (Varsha) that he would leave his body during his 83rd year (September '62 to September '63) somewhere in March or April 1963. And in my never-to-be-forgiven arrogance, I had told my father that I would defeat the designs of his 5th house Saturn, for I had thought of taking sufficient leave round about March-April, '63 to be with him all the 24 hours before his final journey.

But, regrettably, that was not to be and things turned out as my father had predicted. I was not there, nor any of my brothers and sisters. My pride was humbled. He had breathed his last in a sitting posture in a relaxed and peaceful manner in almost the same way as my mother had done three and a half years earlier. Minutes before he passed into eternity, he had been talking to my wife and his grandchildren after his breakfast, which he normally used to have as soon as he would be free from the daily puja.

Tall, fair and handsome, my father lived a simple, decent and honorable life. Unassuming, he never wished ill of others. Being a high school teacher, he did not enjoy economic prosperity. Yet, he believed in giving. He did give away, not money, but the wealth of his knowledge to all those who sought it. He never expected any reward for what he did. He would always volunteer to help those in need. While he had an amiable, quiet nature, he would, at times, lose temper not with children but with my mother, a fact that I often resented even though he was my ideal.

He maintained overall good health. It was only a few years before he left his mortal frame at 82 plus that he suffered from asthma, not severe though. But he overcame the problem by taking Arsenicum, a homeopathic medicine. He displayed remarkable self-control at 79 by giving up his life-long habit of smoking. He would sit quite erect, without ever bending his back. He always walked straight and was in very good shape till the last breath. Punctual in his morning and evening strolls and the daily worship, he was mentally sound and quite alert, and retained till the end the alacrity, the balance of mind and sobriety that characterized his basic approach to life and its problems.
Father takes rebirth

We collected the ashes according to our custom on the 4th day of cremation. Normally, the Hindus in north don't store the ashes in homes; they prefer to either immerse them in a holy river like the Ganges the same day or store them somewhere outside the house. In this case, we did not have any holy river nearby where we could immerse the ashes the same day. So the immersion part was postponed till the time a trip to Haridwar, UP, would be arranged at the end of the 10th, 11th,and 12th day rituals.

In the meantime, my sisters who had come to Shimla all the way from Srinagar to take part in the last rites left for their respective destinations in Kashmir. The intended journey to Haridwar did not materialize till 13th of April, '63. So, the ashes were finally immersed in the holy Ganges on the day of Baisakhi, 1963.
Interesting Anecdote:

A wandering mendicant, an old man in his mid-eighties and a native of Ambala city in Haryana, used to come to Shimla in summer months to avoid the heat of the plains. We used to call him Shani Maharaj, for he would normallyvisit our house on Saturdays to collect oil, some Dakshina and sometime even partake a meal. He would often spend some time with us, for he enjoyed chatting with my father.

In 1963, he visited our house in the middle of May (it was his first visit to us that year), exactly a month after I had immersed dear father's ashes in Haridwar. But this visit of his did not coincide with a Saturday. It was a weekday. So I made bold to ask him, how come Baba, you have graced us today, though it is not a Saturday. He replied that he had come today not to collect oil etc, but just to tell us about the dream he had seen that night.

Both my wife and I got curious. What bearing his dream could have on us, we argued within ourselves. Anyway, he started with the details. He said: "In my dream, I saw myself in this house, and Pitaji sitting there in his usual posture. (At that point he did not know about the death of my father, for he had left Shimla in October 62 and had returned only now in May, 63.)

Continuing his dream, he said that he just asked Pitaji, I am seeing you after a long time. Where were you all this while? Pitaji told me: "I had been to Haridwar and had a bath in the Ganges on the day of Baisakhi and now I am back here for good. Henceforth you can always find me here."

After he finished telling us about the dream, the said Baba asked, where is Pitaji? I am not seeing him here.It was at this point that we gave him the sad news that Pitaji was no more in this world, and that he had left this Sarira 6 to 7 months back. He was distressed to know all that.
The most intriguing coincidence:

My wife and I, tried to analyze the significance of the dream but failed, and failed miserably. It was only in June, 63 that my wife saw a gynecologist who confirmed she was two months pregnant. This led us to recall the dream of Shani Maharaj in which Pitaji had declared that he was back after the Ganga bath on 13th of April. Exactly almost nine months later, my youngest son was born. I have no doubt in my mind that my father is back with me, for he was so fond of me and he had not seen me at the time of his exit from this world.

This episode re-established my firm belief in the theory of re-birth and re-incarnation.
Gone but not forgotten

As we know, all that is born must die. The birth, death and rebirth of my parents has further sealed my belief in the rebirth of the soul, without a shadow of doubt.

There is no denying the fact that no encounter, however casual or long lasting, is by chance, but rather by divine design. Sons and daughters, grandsons and granddaughters and the great grand ones whether of my own blood or of my spirit, are all part of the intricately woven great design- and not a thread is ever out of place!