Horoscopes April 2013
HOROSCOPES
APRIL 2013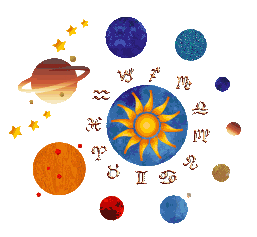 *Acharya Surinder Gautama

Sun Signs predictions have been published in newspapers and magazines since 1930 and though most of us strongly refuse to believe in astrology, yet we tend to glance through the Horoscopes Pages of the newspapers. The Zodiac is divided into 12 Sun Signs and each individual fits into one of these according to date of birth. The Sun Sign horoscopes in the news papers or television programmes are 'General' for each sign and should be read in that mode. Your Sun sign represents the sign of the Zodiac that the Sun was in at the time of your birth. The Sun rules willpower, ego, individuality, courage, confidence and the unique life path an individual is destined to follow. The position of the Sun in your Birth Chart (Horoscope) to glimpse your character and coming events and your determination to accomplish your goals in life.
Aries
(March 21-April 19)
Early April is sensitive time for relationships and unless you stimulate and strive hard to re-liven your waning relation, you face possibility of a breakup. The planets empower you with magnetism and attraction so use this energy constructively. Your efforts and Mars energy will be directed to increase your income and security. The New Moon on the 10th gives you a fresh start in career, home, family and friendship. From mid-April, property matters, investments and far travel take precedence. Take care operating machinery or driving a vehicle.
Taurus
(April 20-May 20)
April begins on a slow pace resulting in boredom, opposition to your projects and restrictions from the family. But the wind blows in your favour from the 15th forward and you are destined to achieve career success, even a promotion at work. But this would follow with added responsibilities and work pressure. The transition of the Sun and the fiery Mars from the 20th indicates financial gains, harmonious relationships and pleasant social events. Interaction with friends and siblings, correspondence and attending social functions will make it a memorable month.
Gemini
(May 21-June 21)
Financial issues and material security will be on your mind all this month. Redraw your budget and avoid buying luxury items early in the first two weeks. As Venus the goddess of love, transits your zodiac sign, you are inclined to socialize, make new contacts and have fun and pleasure. Economic problems will keep the mind occupied much of this month. Coupled with this your charisma and optimism help you to further your career and secure new contracts. From mid- month forward, Love, intimacy and relationships are great.
Cancer
(June 22-July 22)
The Full Moon on March 27th brings out your hidden fears, anxiety and tension relating to a work project. Your partner/spouse and family demand sincere commitment and open relationship. From April 7th, the road is smooth without any bumps with positive job opportunities and a chance to enhance your income. The Venus transit makes youmore outgoing, cheerful and fun loving. As the month progresses your charm and optimism are on the rise. Communications, short trips, and social events keep you busy in the last weeks of the month.
Leo
(July 23-August 22)
Passions rise, love, romance and intimacy soar and your interaction with the opposite gender remains great in April. What starts from the 27th March Full Moon continues till mid-April. Single Leos will stumble upon their soul mates with a chance of a permanent relationship. The Sun-Venus-Mars trine amplifies your determination and luck to succeed in your work projects, gains from your investments and rewards from speculative activities. There may be some minor tiffs in the family but of no significance. You may have to attend family celebrations.
Virgo
(August 23-September 22)
Your energy and charisma are high from mid-April forward and with the influence of beneficial planetary configuration, you are able to realise your desires and professional success. Relationships are intense, a cause of worry and tension but as always you are capable to resolve the issues with humility and diplomacy. From 15th forward, you are in more relaxed and calm mode and are able to cope with the work pressure. Attend to financial situation and check loans and mortgage statements thoroughly. Avoid signing new contracts.
Libra
(September 23-October 22)
The trine of seductive Venus, aggressive and fiery Mars and shining Sun, have fortunate influence on your life in general but on your love and relationships in particular. Try to divert your energy to more mundane matters like domestic chores, renovation and repairs at home or you will feel irritated and touchy. There will be opportunities to renew past contracts, joint venture and social interaction. Some of you may be planning a long trip. The New Moon on the 10th and transition of Mercury may bring some opposition to your projects.
Scorpio
(October 23 - November 21)
You are on the move again Scorpio, as hectic work schedule and demanding family life leave you little or no time to relax and unwind. Your aggressive and assertive attitude will help you to finish off projects before the deadlines, but beware not to upset your work mates in the process. You will be sensitive to relationships issues and your partner may feel neglected and ignored. Change of life style, re-inventing your image and participating in charity work will boost your morale. Avoid pessimists and critics.
Sagittarius
(November 22-December 21)
The Full Moon on the 27th March unleashes a chain of social events, setting your emotional buzz with love and romance. Adventure, excitement and pleasure will the norms till the New Moon on 10th April. This is a lucky month to start new projects, launch new business or go for joint financial ventures. Whatever you do, expansion and significant gains are indicated. With the transition of Mercury, you are able to interact, communicate and express your thoughts and ideas with ease.Avoid arrogance and impulsive outbursts.
Capricorn
(December 22-January 19)
Early April plagues you with anxiety and high drama at home. You may be engrossed in home decoration, renovation or simply trying to move to new surroundings. Children's affairs, education or out of school activities keep you preoccupied. Investing in property and buying/selling stocks are possible with significant gains. From the 15th onwards, career opportunities pop up and if you are alert, you can secure a very lucrative job or a contract. On 20th the fiery and aggressive Mars restores your confidence and optimism. Relationships are harmonious.
Aquarius
(January 20-February 18)
Positive changes to your career, life style and social set up take place this month Aquarius. Changes often unnerve people, but in your case, it means expansion and progress. Jupiter's transition brings you opportunities at work place and in your love life as well. Communications, new contacts and plans for far travel are on your mind. Mars energy may make to assertive and demanding but it will also help you in achieving your goals. Relationships will suffer if you are pushy and demanding. Beware stress and drive carefully.
Pisces
(February 19-March 20)
April is the time to contemplate, look within and heed to your intuitions in all matters concerning your wellbeing and security. Your partner/spouse will be supportive and you will notice a new chapter in your love life. Relationships remain tranquil and you feel more loving and affectionate. The Sun-Mars-Venus trine will boost your finances and you will be inclined to invest in real estate. Work will be hectic and you may secure a new contract around 27th. It is also time improve your image and outlook.
*Acharya Surinder Gautama has been offering Astrology Consultations based on Vedic Astrology also known as Hindu Astrology that evolved in India about 4000 years before. Vedic Astrology helps us to understand life purpose and making right decisions about career, finances, relationships spiritual growth etc. He maintains his own website www.gurukaun.com which is regularly updated with Weekly/Monthly horoscopes .Also a Gem Therapist and Counsellor he writes Horoscopes columns for periodicals.
E-mail: guru@gurukaun.com, Tel: 00-44-757504981198
Copyrights © 2007 Shehjar online and KashmirGroup.com. Any content, including but not limited to text, software, music, sound, photographs, video, graphics or other material contained may not be modified, copied, reproduced, republished, uploaded, posted, or distributed in any form or context without written permission. Terms & Conditions.
The views expressed are solely the author's and not necessarily the views of Shehjar or its owners. Content and posts from such authors are provided "AS IS", with no warranties, and confer no rights. The material and information provided iare for general information only and should not, in any respect, be relied on as professional advice. Neither Shehjar.kashmirgroup.com nor kashmirgroup.com represent or endorse the accuracy or reliability of any advice, opinion, statement, or other information displayed, uploaded, or distributed through the Service by any user, information provider or any other person or entity. You acknowledge that any reliance upon any such opinion, advice, statement, memorandum, or information shall be at your sole risk.