Horoscopes- March 2009
HOROSCOPES
March 2009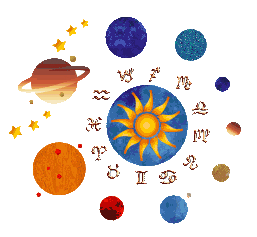 *Acharya Surinder Gautama

Sun Signs predictions have been published in newspapers and magazines since 1930 and though most of us strongly refuse to believe in astrology, yet we tend to glance through the Horoscopes Pages of the newspapers. The Zodiac is divided into 12 Sun Signs and each individual fits into one of these according to date of birth. The Sun Sign horoscopes in the news papers or television programmes are "General" for each sign and should be read in that mode.

Your Sun sign represents the sign of the Zodiac that the Sun was in at the time of your birth. The Sun rules willpower, ego, individuality, courage, confidence and the unique life path an individual is destined to follow. The position of the Sun in your Birth Chart (Horoscope) to glimpse your character and coming events and your determination to accomplish your goals in life.


Aries (March 21-April 19)


Your focus shifts to career, finances and personal security this month and the cosmic helps you to achieve your goals. Intense changes at your place of work prove advantageous and beneficial for you and you are promoted into an authoritative job. Avoid legal and speculation and be wary of any offers for investments. Relationships remain confused and tense till mid March and you are advised to guard against irrational outbursts and impulsive actions. Single Arians may meet the love of their dream. Look after your legs and feet.





Taurus (April 20-May 20)

March 2009 will prove a fortunate month for you when your career spirals high, cash flow increases and love blooms in your life. Bosses and business partners praise and appreciate your skills and talents and promotional reward is in the offing. Socializing and meeting friends, making new contacts and communicating with siblings gives happiness and pleasure. Your ruler the love goddess Venus and the Full Moon form a healthy combination strengthening your ideals and expansion of knowledge of new cultures. Communications, travel and family life run smooth and sweet..



Gemini (May 21-June 21)

You direct your energy, skills and efforts to achieve your goals and ambitions. Your professional life is set to spiral high but you will be inclined to ignore your family and love life. Mid month a financial issue crops up but if you stand up to your principles, it will be resolved in your favour. Relationships with friends and family remain pleasant and happy. Your social status is destined to soar end of the month but beware to ignore your partner. Property, investments, travel and communications face no hiccups. Be care when working with electrical appliances.


Cancer (June 22-July 22)

The Full Moon stirs your intuition and urges you to broaden your horizons. A surge of energy, confidence and courage will help you to achieve your goals and ambitions in March. The last two months have been hectic and exhaustive so it is time to slow down and recuperate. Mars transits your sign making you tense, anxious and impulsive. Finances are stable and increased cash flow is indicated till Mid March. Guard against irrational outbursts or you jeopardize your relationships with workmates and bosses. Love, intimacy and romance make it a harmonious month though some misunderstandings do arise. Short journeys will be fruitful.


Leo (July 23-August 22

March is fortunate month for career, finances and investments. The changes at your workplace will benefit you in promotion or a new job offer. Planet Sun and Mercury shower their benevolence in all aspects of your life and Saturn improves prospects of your long term projects bring out your latent skills and talents. Personal relationships remain intense and it is advisable to discuss conflicting issues rather than jump to conclusions. Single Leos may meet a person of their dreams. Your sense of adventure and travel reawakens in March. Avoid lifting heavy objects to safeguard your spine.



Virgo (August 23-September 22

Others acknowledge your skills and talents and hard work. Your focus this month is on your career, enhancing your income and personal security. From Mid March your priority is communications, partnership issues and reaching out with open and sincere discussions to avoid a breakup. Love life remains stable but troubled sometimes by confusion and misunderstandings. Opportunities arise for investments, far travel and social delights in the last week. Overall March is a fortunate month but you may feel exhausted and run down till last week of March. Take it easy..


Libra (September 23-October 22)

Early in the month you are in the fun and frolic mode but as the month progresses your attention turns to professional matters, income and domestic chores. Family, friends and children keep you preoccupied as well as your interaction with bosses and workmates is vital. Suppressed emotions and feelings can erupt and squabbles with a sibling are possibility. Mar's transit in 10th house of your zodiac helps you to communicate with authorities and get close to an important person. A romantic relationship is in the offing with a colleague at the office. Rest, lie low and recuperate end of the month.


Scorpio (October 23 - November 21)

March will prove to be non event month with life running smooth on all zones. Your mood is playful, inclined to fun and probably take time off work for family outings. Relationships with love ones siblings and parents are vital now as your success and happiness depends upon their support and love. Your spouse may cause some tensions in the second week of the month. Finances remain stable but keep away from get rich quick schemes. Tackle real estate issues this month but avoid any new investments or speculative activities. Plan a holiday with the family.


Sagittarius (November 22-December 21)

Opportunities arise for a romantic fling this month. Your focus is turned on to family and home now and you will spend most of your spare time renovating and redecorating your home. Positive changes in career and financial arrangements are forthcoming. Your finances remain, stable, though rocky, if you curb your extravagance. Personal relationships are slightly tense but if you have discussions and compromise on mutual interests, your love life would bloom. You ruling planet Jupiter is retrograde which will cause delays and confusion in your career. Do not exert and avoid physical exercises, stress and tension.


Capricorn (December 22-January 19)

The focus this month is on finances, enhancing your income or even looking for a second job. Your ruler, Saturn is in Leo all March and urges to be more open, sincere and communicate with influential people. Your emphasis will be on your love nest, family and children. New Moon and Saturn is in trine with Jupiter and Mars and your inner feelings surface to look for a new job, change of life style or relocaion. A relationship comes under stress and duress and you will need all your diplomacy and patience to avoid a breakup.

.



Aquarius (January 20-February 18)

As the month unfolds your social status and popularity soar and you are on the centre stage. March also brings added financial responsibilities, may be outstanding bill or money you owed or unanticipated expenditure. You will have to revise your strategy for career progress and probably do some introspection. March is auspicious for all sorts of financial affairs, property and investments. Family issues, domestic chores and children's affairs keep you busy mid month. Flirtatious flings are forecast with a sensuous and this person will shower you with expensive gifts. Watch your diet and avoid overindulgence.


Pisces (February 19-March 20)

Time is ripe for you to assess and reevaluate your career plans, finances and relationships. Your career will progress with your bold and courageous initiatives and communications with your superiors. Avoid making any new financial commitments or making a large purchase. Opportunities to starts new ventures arise mid March but do not allow others to take advantage of your soft and compromising nature. As Venus the goddess of love and Mercury transit your sign, there is abundance of romance, love and intimacy in March. It is excellent month to broaden your horizons and take short journeys.

*Acharya Surinder Gautama has been offering Astrology Consultations based on Vedic Astrology also known as Hindu Astrology that evolved in India about 4000 years before. Vedic Astrology helps us to understand life purpose and making right decisions about career, finances, relationships spiritual growth etc. He maintains his own website www.gurukaun.com which is regularly updated with Weekly/Monthly horoscopes .Also a Gem Therapist and Counsellor he writes Horoscopes columns for periodicals.
Copyrights © 2007 Shehjar online and KashmirGroup.com . Any content, including but not limited to text, software, music, sound, photographs, video, graphics or other material contained may not be modified, copied, reproduced, republished, uploaded, posted, or distributed in any form or context without written permission. Terms & Conditions.
The views expressed are solely the author's and not necessarily the views of Shehjar or its owners. Content and posts from such authors are provided "AS IS", with no warranties, and confer no rights. The material and information provided iare for general information only and should not, in any respect, be relied on as professional advice. Neither Shehjar.kashmirgroup.com nor kashmirgroup.com represent or endorse the accuracy or reliability of any advice, opinion, statement, or other information displayed, uploaded, or distributed through the Service by any user, information provider or any other person or entity. You acknowledge that any reliance upon any such opinion, advice, statement, memorandum, or information shall be at your sole risk.