Historic pictures of India
by Kulwant Roy
Kulwant Roy (born,1914, Lahore, then in India) was a photographer working for Associated Press. He was personally responsible for several iconic images of the Indian independence movement and the early years of the Republic of India.

Indian National Army personnel are all military grace as they welcome Gandhi at an event at the Harijan Colony, Delhi, in 1946.
Jawaharlal Nehru addresses the press in Delhi in 1947, shortly before Independence.

Jinnah, sitting on a sofa like a modern potentate, surveys the scene from atop a truck at a procession in Allahabad in the 1940s, during a Muslim League session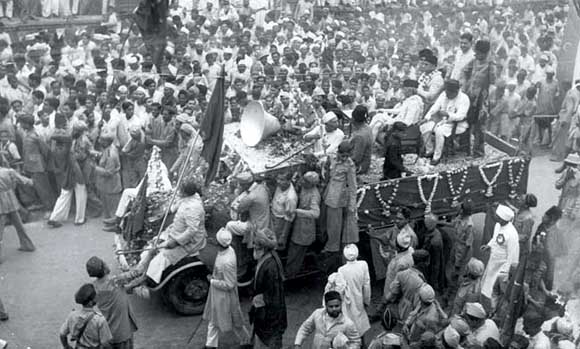 Workers gather to collect their wages from a pay van, at the Bhakra Nangal project area in the 1950s
Sardar Patel and the Maharaja of Patiala confer during a meeting of the Phulkian Union, an umbrella body of princely states, in Patiala, shortly after Independence.
Mahatma Gandhi and Jinnah in a heated conversation.
Nehru with his grandson, Rajiv Gandhi, and his daughter, Indira Gandhi, in an undated photo.
Khan Abdul Ghaffar Khan and Jawaharlal Nehru walk to a meeting while Sardar Patel is pulled alongside in a rickshaw. Roy's access provided him with ample opportunities for informal photographs.
Wrestling champ 'Daula' pins down his English adversary 'Clark', to the patent dismay of the referee, at a fundraiser for the Lahore Warplanes Fund, the Police Spitfire Fund and the Minto Park Fund, in Lahore in the late 1930s
Copyrights © 2007 Shehjar online and KashmirGroup.com . Any content, including but not limited to text, software, music, sound, photographs, video, graphics or other material contained may not be modified, copied, reproduced, republished, uploaded, posted, or distributed in any form or context without written permission. Terms & Conditions.
The views expressed are solely the author's and not necessarily the views of Shehjar or its owners. Content and posts from such authors are provided "AS IS", with no warranties, and confer no rights. The material and information provided iare for general information only and should not, in any respect, be relied on as professional advice. Neither Shehjar.kashmirgroup.com nor kashmirgroup.com represent or endorse the accuracy or reliability of any advice, opinion, statement, or other information displayed, uploaded, or distributed through the Service by any user, information provider or any other person or entity. You acknowledge that any reliance upon any such opinion, advice, statement, memorandum, or information shall be at your sole risk.